Introduction: Stepping Stone Path
This how-to will take you from start to finish on installing a stepping stone path or garden walkway. You can benefit from the many valuable tips and techniques to complete your project like a professional.

We want you to be able to build your very own dream yard.
Garden walkways have a way of slowing down our pace as we stroll along to enjoy nature.
This seems ironic as they were the origins of road building, which actually sped up the progress of man.
For those looking for easy landscaping ideas like this one, building it yourself can save you hundreds of dollars.
Whether you are using it for a walkway to a garden shed or another feature in your yard, this how-to will give you the information you need to install it correctly.
We chose two projects to follow for this module because most stepping stone walkways are built in two different ways. The above picture combines both methods.
Part of the walkway is built in lawn, and the other part is built in a bed of decorative rock.
The lower stepping stone path project was built entirely in the lawn.
I have installed many of these over the years and no matter which one you choose, they are one of the easiest natural stone projects you can complete yourself.
As with most stone projects you don't need expensive equipment to do the job.
Man has been working with stone for thousands of years without it, and accomplishing some pretty amazing projects.
You will only need time, patience, old clothes, and the willingness to learn.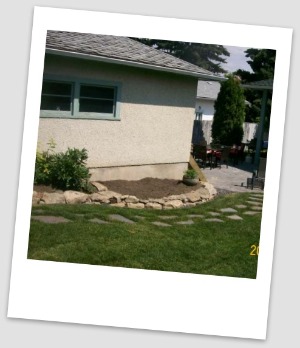 Once again this how-to will be designed to be easy to read and follow with diagrams and pictures when possible.
If you have any questions along the way you can contact us by using the contact us page.
Construction techniques vary with different projects according to the climate you live in.
Stepping stone paths are very basic, and an exception to this rule. You will not have to worry about sub base requirements like you would with a stone wall or patio.
If you are looking for great garden path ideas and walkway pictures, visit our Walkway Ideas Section.
Remember to take lots of pictures of your project before, during, and after because we would love to post them on our site to share with others.
Let's get started with choosing your stepping stone path site.
_____________________________________
Table of Contents: Stepping Stone Path
Introduction: Stepping Stone Path
C. Stepping Stone Path Materials
D. Stepping Stone Path Site Preparation
F. Stepping Stone Path Completion
______________________________________
Go to "The Yard: Landscaping How-to Modules"
Go to Dream Yard Home Page from Stepping Stone Path