About Dream Yard
Our vision:
To be the most comprehensive site dedicated to landscaping how-to's on the internet.
To be welcoming, friendly, positive, easy to read, navigate and 100% free to use.
To bring together landscapers, suppliers and homeowners under one roof.
To be constantly improving our site by listening to both positive and negative feedback.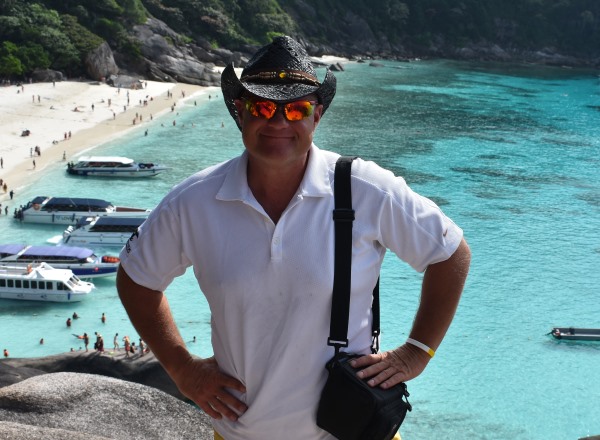 Me in Phuket Thailand
As a landscaper, I have spent much time on the internet searching for materials, new products, ideas, and studying construction techniques for various projects.
There is a ton of information out there, but I wasted many hours trying to sort the good from the bad. I wanted to find one definitive site that would keep me from bouncing around different pages and sites, and couldn't find one. So we decided to build one.
After reading many how-to's from do-it-yourself sites, I realized that many of these sites are lacking important information. Many of the tips and techniques that save people time and money are left out. In many cases they have spread themselves thin covering as many how-to's as they can from different industries. Landscaping is a huge industry and needs to be specialized.
I have also watched hundreds of videos, and read the comments made by others. People would attack the methods used, when in fact they were just designed for a different climate. This had me thinking that our site had to be very open to ALL methods used. It's easy to tell someone how to do it where you live, but we wanted to be able to tell people how to do it no matter where they live in the world.
Living in one of the harshest climates in the world (Northern Alberta, Canada), the temperatures can dip into the -40's and -50's Celsius. We have deep frost, multiple frost heave cycles, and our preparation techniques are some of the most difficult and comprehensive methods in the world. This means that people living in warmer climates can follow our how-to's by simply removing or modifying northern climate techniques as they go. We point out areas for these changes in the how-to modules for them. They can also visit the forum for tips related to their climate.
Our goal is to write everything in an open manner, and give as many tips as we can to save you time and money. We also want to have the most user friendly, and welcoming site to everyone from suppliers and contractors to homeowners. We are always looking to improve our site and add information that is helpful.
To start our ideas section we needed pictures of different projects and were surprised to see how many sites charge a fee for this service. We want to have a 100% free site. Many of the pictures in ideas sections out there were of projects that are beyond the scope of a do-it-yourselfer, and were often of properties that most of us could never dream of owning.
We felt the best way to have an ideas section, was to spend countless hours contacting your local landscapers and suppliers for permission to display their work. This gives do-it-yourselfers ideas that are actually possible to do. It also gives people looking for a contractor an opportunity to check out the quality work available to them. Having the links to the pictures, and a directory is a good way to do this.
Starting the site with a limited amount of projects and pictures was a decision we made to help us in the early stages of development. This is new territory for us. We want feedback (both positive and negative), so as we grow we can modify material we already have, and add new projects to better meet user demands.
It's difficult to know how big this site will get, how manageable it will be or how well known it will eventually become. We are a small team and will have to adapt to many things as they come to us.
So we ask that you be patient, courteous, and respectful to us and to others on the site at all times. We will always be available for questions or comments by using the contact us page. Please be patient if it's not right away, because we also have careers and families.
So from the team at the Dream Yard, welcome to our site.
Thanks,
The Dream Yard Team


Return to the Dream Yard Home Page from About Us