G. Patio Edging Jointing
This Patio Edging Jointing section will look at adding the finishing touches to your patio. We can now install the appropriate patio edging and jointing sand now that your patio is complete.
There are many different kinds of paver edging and their purpose is to contain the edge pieces so they don't slide or move away from the rest of the patio pieces.
They also keep grasses or weeds from migrating into the edges of your project.
Installing Edging
Edging is pretty easy to install. Place your edging so that the top sits about 2/3 of the way up from the top of the stone.
Push the paver edging as close to the stone as you can, and drive your 10 inch spike through the hole of the edging.
Do this about every few feet as required, except on sharper curves where you will have to use more spikes to keep it tighter to the stones.
When you have the whole piece spiked in, go back and hammer the nails down another 1/4 inch so the flagstone edging is supporting about the bottom 1/4 to 1/3 of the flagstone.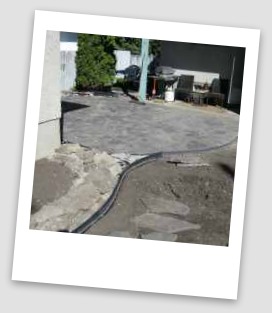 This way it will not become an eyesore, but it will still give you the support you need for the stones. Continue this procedure around the whole patio and you are done. A small hacksaw will work fine for cutting any pieces.
Installing Jointing Materials
Now you can finish the surface one of two ways. Natural crushed stone or sand, or polymeric jointing sand.
Before you install any type of polymeric sand, make sure you will have a couple of days of dry weather. If you install it in the rain, the polymer binding agent can be washed away.
For those of you that want a natural look, you can pack in whatever color of crushed rock you would like. You can pack it in as you are leveling and stabilizing your stones. Keep in mind that it can be washed out in heavy rains.
Crushed rock like limestone will actually harden up better than using sand, and will be less prone to erosion from heavy rain.
Wet it down a few times over a period of few weeks and add more if needed. (You may have to add more than once, until it has finished settling.)
for those of you using polymeric jointing sand there is something we want you to consider before we get to the installation part.
Even if you are using polymeric sand to finish your surface, use the crushed stone or sand when you are setting and stabilizing your stones.
The reason we say this is jointing sand is expensive. You will end up using much more than you have too, and you will not be able to make any easy adjustments once this hardens.
Install the jointing sand after you are sure everything has finished settling. This will require an extra step for you, but it will be worth it.
Also, if a project was built on a saturated ground, high water table, or if it was a new construction area, I would wait until the following spring or summer to install the jointing sand. These things can lead to frost heave, and sinking from unsettled soil.
Once again, the time it takes to fix frost heaves after jointing sand has been applied will make it worth it.
The average time to brush out regular sand and replace it with polymeric is 3 to 4 hours for a 300 square ft. area.
It is a simple process as you will see below.
So back to installing polymeric jointing sand.
If you would prefer to see a video on installing jointing sand, we have one in our product profiles section.
The video you will find in the product profile for Envirobond jointing sand is here.
To clean out the existing sand or crushed rock that you used to pack in the stones, use a compressor or a stiff bristled brush. I prefer the stiff brush as the compressor makes a mess blowing material everywhere.
All the cracks must be swept out to a depth of about 2 inches for the polymeric sand to be effective. Check the recommendation on the brand you are using. You will also have directions on the bag as to how to apply it.
Make sure that the area and surface of the stones are completely dry before spreading polymeric sand.
Dump the polymeric sand on the patio. Sweep all the sand into the joints so it is flush with the height of the stones, while brushing any excess off the top of the stones.
If you have dust and residue on the stones, It will dry on the surface of the stones and stay there until it wears off. Here is how to clean this up,
If you have a compressor or leaf blower, blow off the surface of the stones removing as much of the dust as you can, without blowing it out of the cracks.
You have to be careful how you hold the air line or leaf blower. I usually hold my air line at waste height on an angle, this seems to work ok. A leaf blower should be held off the ground a couple of feet. If you hold these tools too close, you will blow out the polymeric sand from the joints.
Wetting down polymeric sand is not the easiest task even for experienced landscapers. It is best to use a two step method. I have found that a garden hose on a fine mist works well for the first step. Do the first application with a heavy mist, but don't use enough water to create runoff.
A slight bond will form at the surface of the jointing sand, and your second application can be a little more aggressive. (Wait 10 Minutes or so after the first sprinkle). This means you can now thoroughly soak the stones on your second application of water without having to worry about washing out any jointing sand.
Now your dry-laid flagstone patio is complete. You can now finish off your transition zones. If you need help with that please visit our module on Edging and Decorative Rock.

On to the final step...completion and clean-up.
_____________________________________
Table of Contents: Flagstone Patio
D. Flagstone Patio Site Preparation
E. Flagstone Patio Base Preparation
F. Laying Flagstone Patio Stones
G. Flagstone Patio Edging and Jointing
H. Flagstone Patio Completion and Clean-up
______________________________________
Return to Dream Yard Home Page from Patio Edging Jointing