Sub-base Preparation and Screeding
with Paversm8
Paversm8 is a tool that will help you achieve a perfect sub-base and patio surface. Proper patio sub-base preparation is the biggest factor in the success or failure of your patio project.
Dream-yard is always looking for products that help homeowners and professionals.
One of the advantages of having this website is we often stumble across these great products, and sometimes we are lucky enough to have them find us.
When this happens, we work with these companies to provide the information to our readers in our product profiles section.
Product profiles are specific products that benefit do-it-yourselfers by saving them time and money. Paversm8 paving tool, is one of those products.
We don't endorse these products for monetary gain. We simply provide information to you on products we think are cool, and relevant to the landscaping industry. What you do with it from there is up to you. If you have any feedback or experiences with this, or and other products, please visit our contact us page to let us know.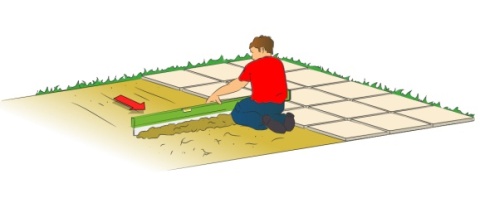 We hope you enjoy this product profile, and the rest of our site. We are a new site, so please subscribe to our RSS feed or bookmark us, and visit frequently as we add new material.
Thanks so much,

The Dream-yard Team

---

Profile: Paversm8
Get it level the first time • Eliminate rocking pavers
• Minimize Breakage • Save Time & Money •
Get professional looking results!
As a landscaper myself, I wish I knew about this product when I was building my patios. This was one of my biggest challenges when I worked with my sub-base. It would have helped me achieve perfect drainage grades much easier when working alone.
At Dream-yard, we are always emphasizing how important prep work is for any project. So we were pretty excited when we found a product to help homeowners prepare a sub-base. Building bases for patios, walls, and walkways is one of the most difficult tasks facing do-it-yourselfers.
Leveling and screeding with long straight boards can be very awkward, and the level often falls off. That is IF you can find a straight piece of wood at the lumber yard. This is a tool that will allow you to keep a perfect level, and screed the sand as you work. Until now, screeding sand with long boards was always a two-man job.
So not only does this product help homeowners, but it will help professionals that often work alone. It is extremely valuable, and double checks your work as you go. This will save you time and money. You will never have to go back and fix poorly laid undulating work, or grading errors.
All you need to focus on is making sure your first stone is set right. The rest is easy thanks to this product. OK. It sounds like I am endorsing it now. But it's impossible not to. It really is brilliant. Congrats to Paversm8 for coming up with a great product.
Now you can do it right once, the first time. Definitely worth the small investment for this product.
Visit www.paversm8.com for further information.


Return to Landscaping Product Profiles

Return to Dream Yard Home Page from Paversm8