Thank you to our Dream-yard Followers!

Sometimes a person just has to sit back and reflect on what they've done. In the process, this means giving thanks to all the people that supported them in helping to build their dreams. This is our opportunity to say thanks to all the people who have found us on Pinterest and our website. 
What started out as a small idea to provide helpful information to homeowners looking to save money, has now grown to over 200 pages. Even though we are still a relatively small site, the Dream-yard Team consists of myself and my absolutely amazing wife. We will continue to grow while we balance children, careers, and life in general.   
There were many times when we just wanted to give up, but you never achieve your goals with that type of attitude. There is also no greater joy than receiving a thank you email from someone who found the information helpful. Then came Pinterest. It has not only helped our site grow, but also helped me stay motivated giving me the drive, ambition, and initiative to stick with it. Pinterest helped us every day with "thoughts and inspirations".
I wish to send out my biggest thanks to Ben, and the Pinterest team. I was really fortunate to speak with him a few years ago when his site was just starting to take off. I can only describe him as a pleasant, well mannered, honest, and very decent person. I was so happy to see this site succeed. They deserved the success that came to them.
Pinterest is not just a social networking site to me. It is a place where one can escape from the busy world we live in and reinforce all the positive and uplifting things that make us happy or better people. Sites like Pinterest can make the world a better place.
Thank you so much from the Dream Yard Team.
Looking for some 2015 Landscaping Inspiration?
Check out the Dreamyard links below to see some of our reader favourites for planning inspiration.

Want to see beautiful pictures for inspiration? Check out our Pinterest boards and see why tens of thousands have followed our Pinterest boards already!
What else is here at Dream Yard? Everything you need to create your very own amazing space. Lots of great DIY landscaping information. We have landscaping articles, detailed how-to modules, a picture ideas gallery, and a passionate team willing to answer any landscaping questions you may have.
If you are not yet familiar with us, Dream Yard is not a one page "step by step site". We are an educational site. We still get you there, but we educate you on "Why" things are done in the process. We want you to be well prepared with any project you undertake.

Planning a new project for the summer? Take a look at our Estimating Materials article and be prepared when you go shopping at your landscaping supply yard.

Popular Module! Advanced
Flagstone Tips


Laying flagstone seems to be quite a challenge for most do-it-yourselfers, and many people fail to achieve the look that inspired them to build one in the first place.

We developed a 3-part Module to help homeowners complete their projects like a pro.
After reading the introduction, the article is divided into two sections.
How to Buy Flagstone

covers what you need to know to purchase the right materials for your specific project.

How to Install Flagstone

 will focus on a few "Tricks of the Trade" when working with the stones. We will help you with placement of the stones, as well as some techniques used in working and shaping the stones.
Check it out if you are planning on doing any work with flagstone this season: Advanced Flagstone Tips!
The Value of Landscaping
As long as we have been settling in communities, landscaping has been a part of our lives. It is a way of expressing ourselves, our cultures, and our styles.

It also shows the sense of pride we take in our homes and communities.
Landscaping can provide extensions to your living area with patios, decks and private sitting areas.
For some people, strolling along paths or tinkering in garden beds, provides a therapeutic solitude.
Landscaping can increase the value of your home, or help you sell it by giving more curb appeal.
Whatever your reason for adding a DIY landscape project to your yard, we hope that this site will be a helpful tool in completing your projects and building your dream yard.
Share this Site
We have made it easy for you to follow us by using most of the popular social networking sites. This also makes it possible to share this site with others, with the simple click of a button.
For those of you looking for some great picture ideas for your projects, please "Follow us on Pinterest". We have thousands of project categorized pins for you to browse.

Please subscribe to our RSS feed, or sign up for our newsletter (see form in right hand column) to stay informed of new material.
If you have a website, blog, product, videos, or pictures related to landscaping, we would love to hear from you.
You can contact us here.
We hope you have a great day and enjoy our site.
Thank you,
The Dream Yard Team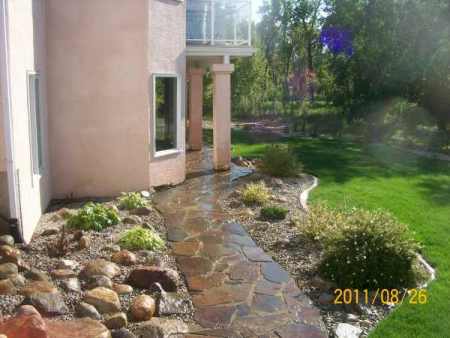 Learn how to build your own beautiful flagstone walkway,
just like this one...